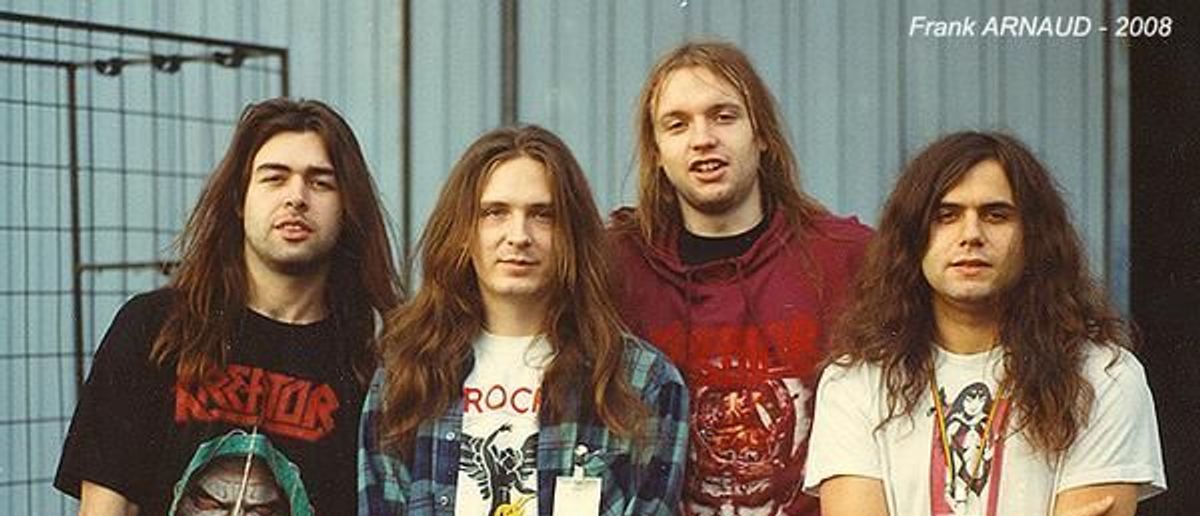 Click here to pre-order (https://rockatlarge.easy.co/search?q=%28PRE-ORDER%29+KREATOR)
Formed in Essen, Germany in 1982, Kreator are arguably the most influential and successful European thrash metal band ever, like many of their European speed metal brethren, Kreator fused Metallica's thrash innovations with Venom's proto-black metal imagery. Often referred to as one of the "Big 4" of Teutonic thrash metal, and they are often credited with helping pioneer death metal and black metal by containing several elements of what was to become those genres. The band has achieved worldwide sales of over two million units for combined sales of all their albums, making them one of the best-selling German thrash metal bands of all time. The band's style has changed several times over the years, from a Venom-inspired speed metal sound, later moving in to thrash metal, and including a period of transitioning from thrash to industrial metal and gothic metal throughout the 1990s. In the early 2000s, Kreator returned to their classic thrash sound, which has continued to the present.
Cause for Conflict
Kreator's seventh album, Cause For Conflict was originally released in July 1995, musically the band took a different path to the one that hard marked out its predecessor 'Renewal'. While certainly not abandoning the experimental nuances which had been so crucial to the previous album. However, there was something of a return to familiar territory this time around. Both the songs 'Lost' and 'Isolation' came out as singles and the passage of time has given Cause for Conflict a sense of belonging, because there's little doubt it remains one of the bands most undervalued records.
Coma of Souls
Kreator's fifth album, Coma Of Souls came towards the end of the thrash metal explosion of the 1980's and retained their classic thrash sound whilst combining more melodic elements of classic metal bands like Iron Maiden and Judas Priest. Critically acclaimed by both fans and press, Coma of Souls was a strong, firm step forward for the band, it proved they weren't content to sit and wallow in the thrash back waters but were determined to move into a new decade with a bold, thrusting sound.
Outcast
With hindsight, and a sense of history, Outcast is certainly one of Kreator's most inventive and important albums. The German gargantuan-watt gladiators' eighth studio release was different to anything they'd done in the past during a time when metal was in turmoil due to the grunge and Nu Metal explosions. The title Outcast was appropriate for how the band felt in the late 1990's and when Outcast was released in July 1997 it wasn't a huge selling album, nonetheless it proved they were still an exciting, individual and focused band.