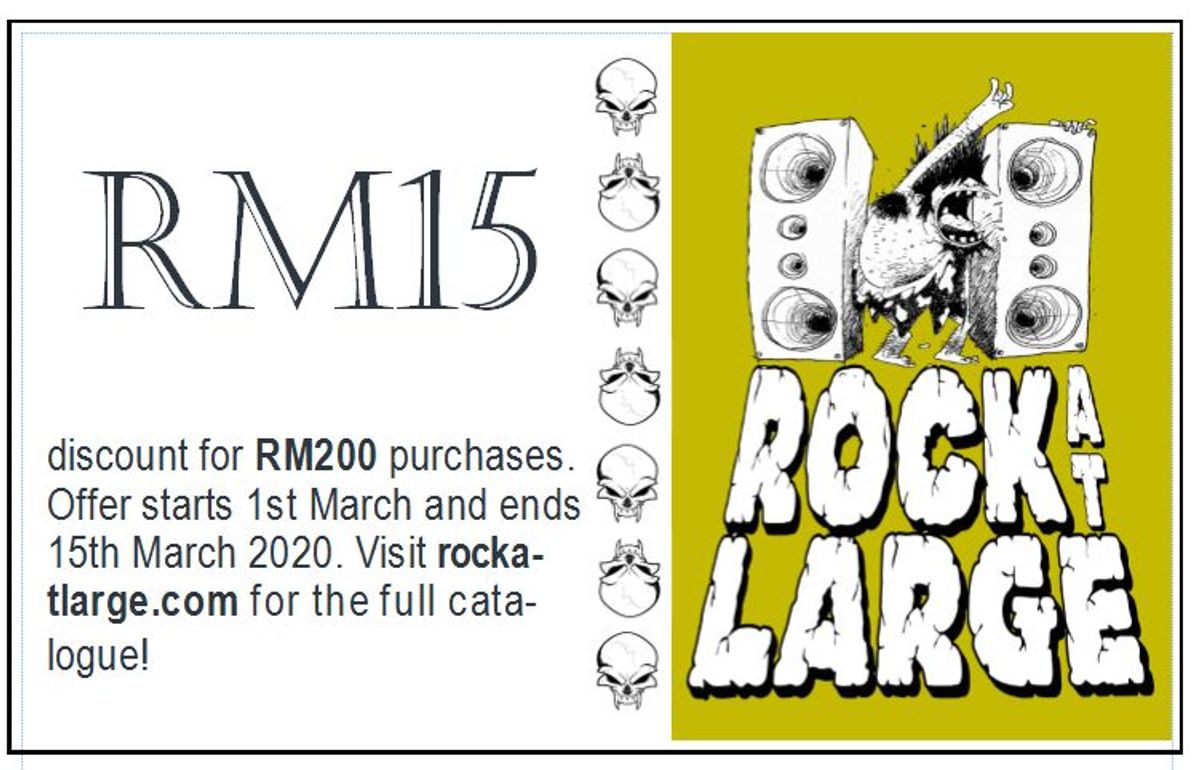 Penjimatan sebenar adalah anda tak beli apa-apa… kah kah kah…
OK serius. Penjimatan di rockatlarge.com sehingga 15 Mac 2020 ini ialah, apabila anda beli RM200, kita bagi diskaun RM15.
Dah le tu, poslaju flat rate RM7 tak kira berapa banyak dan berat barang dibeli. Semenanjung Malaysia sahaja.
Sebagai contoh (rujuk gambar):
------
CONTOH A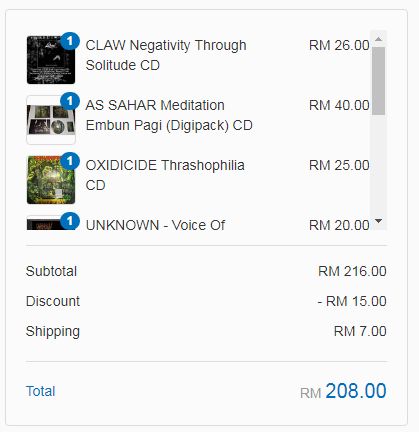 CLAW Negativity Through Solitude CD RM 26.00
AS SAHAR Meditation Embun Pagi (Digipack) CD RM 40.00
OXIDICIDE Thrashophilia CD RM 25.00
UNKNOWN - Voice Of Tragedy Re-release Demo 2010 CD RM 20.00
NEFTARAKA Unholy Sovereign CD RM 20.00
TORCH As The Lantern Fades CD RM 25.00
QIAMAT Barzakh Dan Nyata CD RM 25.00
TANDUS Skuad Pemusnah CD (free postcard) RM 35.00
Subtotal RM 216.00
Discount - RM 15.00 ßdiskaun
Shipping RM 7.00
Total RM 208.00
------
CONTOH B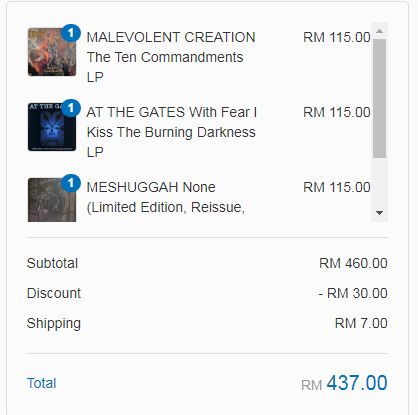 MALEVOLENT CREATION The Ten Commandments LP RM 115.00
AT THE GATES With Fear I Kiss The Burning Darkness LP RM 115.00
MESHUGGAH None (Limited Edition, Reissue, Remastered) LP RM 115.00
MAYHEM Deathcrush LP RM 115.00
Subtotal RM 460.00
Discount - RM 30.00 ßdiskaun
Shipping RM 7.00
Total RM 437.00
-----
Boleh buat apa jenis kombinasi pun. CD saja ke. LP saja ke. CD lebih LP kurang. LP lebih CD kurang. Ikut suka la camana pun. Poslaju Semenanjung TETAP RM7.
Stok terhad. Masa terhad. Sehingga 15 Mac 2020 sahaja.
Kalau berdekatan dengan Cyberjaya, boleh singgah ke galeri ROCK AT LARGE untuk ambil barang. Jimat RM7. Sambil tu boleh la buat aktiviti menggeledah.
Kalau jauh sampai ke Mersing nun… rockatlarge.com webstore kan ada?
Sampai 15 Mac tau!