---
1. ROCK AT LARGE?
To cut story short, our reputation can better be seen from our facebook page https://www.facebook.com/rockatlarge since we "started" there. Don't forget to like the page too since communication is more interactive there.
Suffice to say that we have been around this "mailorder" scene for many years even before ROCK AT LARGE is established as a "store'.
2. The CDs/LPs/cassettes original? Imported? New? Sealed?
NEW means there are new and sealed. Well, 99% of them are sealed. However sometimes they came in unsealed but still new.
We don't sell pirated CDs/LPs/cassettes as principally we are against the whole idea of piracy. The CDs/LPs/cassettes were sourced from legitimate suppliers.
Country of manufacture is mentioned for each items but mostly they are from Europe unless if they are local artists.
3. I don't see the titles I want. Can you find it for me?
Yes, we can find it for you. Please email us using the form provided detailing the artist and album. We will get back to you with the price. If you agree, then, we will require 50% deposit. Once paid, we will process the order and item shall be delivered in 3-5 weeks most of the time.
4. Do you have physical store?
Unfortunately no.
5. Can you do COD?
Yes but only at Putrajaya.
6. What is the mode of payment?
Cash (via ATM or online transfer) or credit card (via Paypal)
7. What is the "Arriving Soon" menu?
These are items which are on the way to ROCK AT LARGE. Estimated time of arrival is described at each of the item's page. You can order this together with the ready stock item but will be shipped once the "Arriving Soon" items arrived.
7. What is the "Back Order" menu?
BACK ORDER item is not in stock but will be available upon request. Item will only be shipped to customer 3-5 weeks AFTER order (please email ROCK AT LARGE for estimated time of arrival). Price printed is the full price, however, a MINIMUM deposit of 50% from the full price is needed to confirm the order (you are welcomed to pay 100%).
Unlike Pre-Order which is not yet released, Back Order is product that already been released. Only that it is NOT ready stock but can be ordered upon request.


9. How can I trust ROCK AT LARGE?
We know that trust is everything for online purchase. You can view RAL's feedbacks from years of building reputation by visiting our facebook page https://www.facebook.com/pg/rockatlarge/reviews/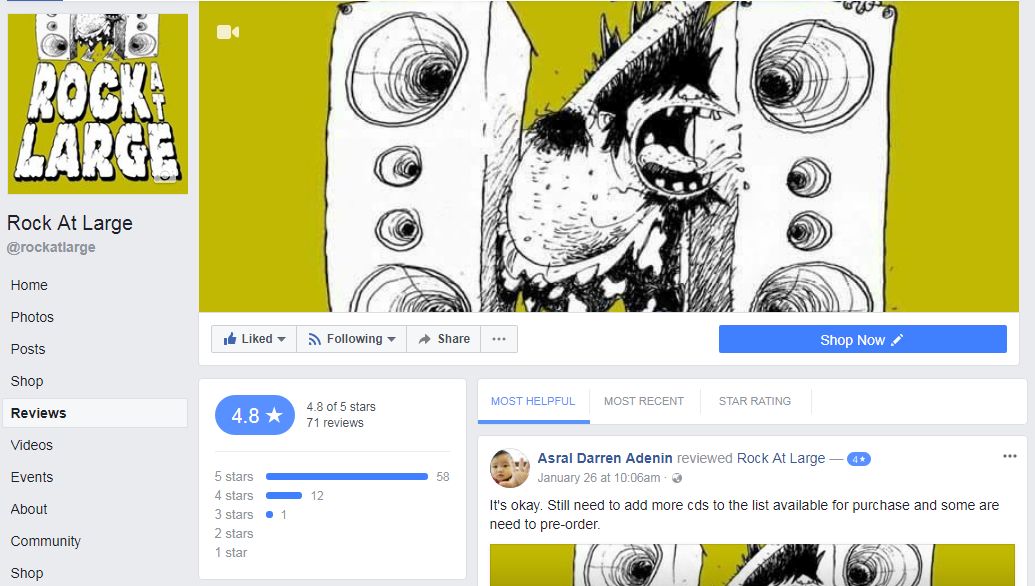 10. Bagaimana nak dapat updates? Isi tempat kosong di bawah dan tekan butang SUBSCRIBE.