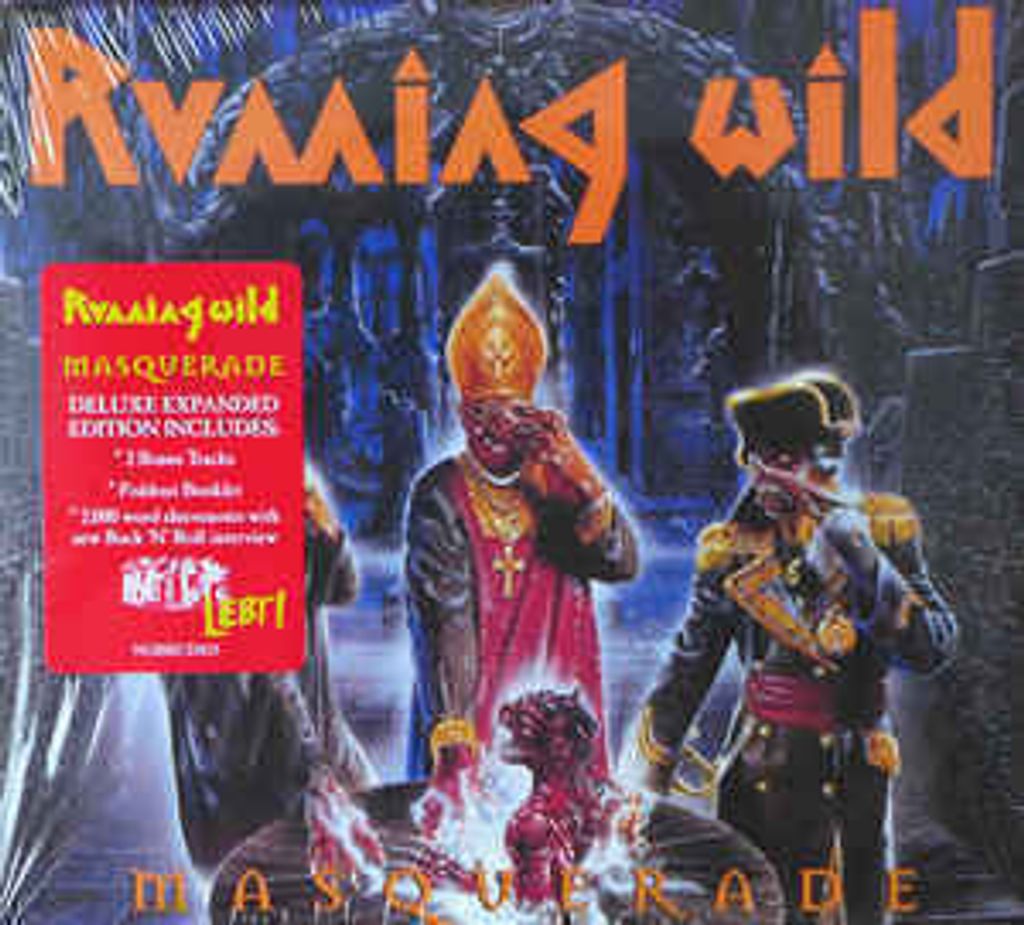 RUNNING WILD Masquerade (Deluxe Edition, Reissue, Remastered, Digipak, Expanded) CD
Notes
℗ 2017 Sanctuary Records Group Ltd. © 2017 Sanctuary Records Group Ltd.

Includes colour fold-out booklet with new sleevenotes.
Manufactured in the EU.

Sleeve notes by Malcolm Dome London, November 2016.

Track 1 published by EMI Music Publishing Ltd., track 2 published by Wintrup Musikverlag Walter Holzbaur / Maldoror Musikverlag Karl-Ulrich Walterbach, tracks 3 & 9 published by BMG Rights Management (UK) Limited, and tracks 5 & 12 published by Wintrup Songs Ltd.

Original 'Masquerade' album released in 1995 by Noise Records, N0261-2.

Engineered & mixed by Gerhard "Anyway" Wölfle at the Horus-Sound Studio, Juli-August '95.

Note: Very special thanks to Gerhard "Anyway (Carajillo)" Wölfle for a great production, a really good time and a really "big snaresound!!!" (but the snare is still not big enough! HoHoHo!) A super special thanks to all true Running Wild fans all over the world for support and for keeping "the flag"!

Tracks 1 to 11 ℗ 1995 Sanctuary Records Group Ltd., and tracks 12 & 13 ℗ 2003 Sanctuary Records Group Ltd.

Special thanks to Rock 'n' Rolf Kasperek for his assistance with this release.

On sticker:
* 2 Bonus Tracks.
* Foldout Booklet.
* 2,000 word sleevenotes with new Rock 'n' Rolf interview.
Label:
Noise (3) ‎– NOISECD033, BMG ‎– NOISECD033
Series:
Noise Lebt! –
Format:
CD, Album, Deluxe Edition, Reissue, Remastered, Digipak, Expanded
Country:
Europe
Released:
03 Aug 2017
Genre:
Rock
Style:
Speed Metal, Heavy Metal
Tracklist
1The Contract / The Crypts Of Hades2:17
2Masquerade4:13
3Demonized4:41
4Black Soul5:17
5Lions Of The Sea5:52
6Rebel At Heart5:53
7Wheel Of Doom4:04
8MetalHead4:56
9Soleil Royal4:44
10Men In Black4:46
11Underworld6:15
Bonus Tracks
12Lions Of The Sea (2003 Re-Worked Version)5:48
13Black Soul (2003 Re-Worked Version)5:20