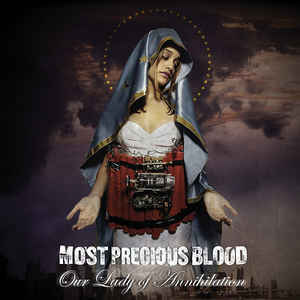 (Used) MOST PRECIOUS BLOOD Our Lady Of Annihilation CD
Most Precious Blood is an American metalcore band from Brooklyn, New York, formed from the remnants of the band Indecision. They blend the song structures of hardcore with heavy metal, and the band cites Sick of it All, Aphex Twin, The Sisters Of Mercy, and The Obsessed as influences, among others. They were signed to Trustkill Records until it dissolved in 2010. They are now with Trustkill president Josh Grabelle's new label Bullet Tooth.

The band and its members advocated straight edge, vegetarianism and veganism, and they were all animal rights belligerents. As of 2015, vocalist Rob Fusco is no longer.[1] However, they deny being preachy in any way, saying "I'm not going around trying to change people because people are going to change when they want to... if I said something that you found truth in, or that you found made sense, cool - I'm glad I was a catalyst to help you come to your own conclusions."
Genre:
Rock
Style:
Hardcore
Year:
2003

Tracklist
The Great Red Shift
Collusionist
Quiet Pattern
Growing Square Eyes
Your Picture Hung Itself
Funeral Photography
Life During Wartime
It Runs In The Blood
So Typical My Heart
Why Hyenas Laugh
Closure