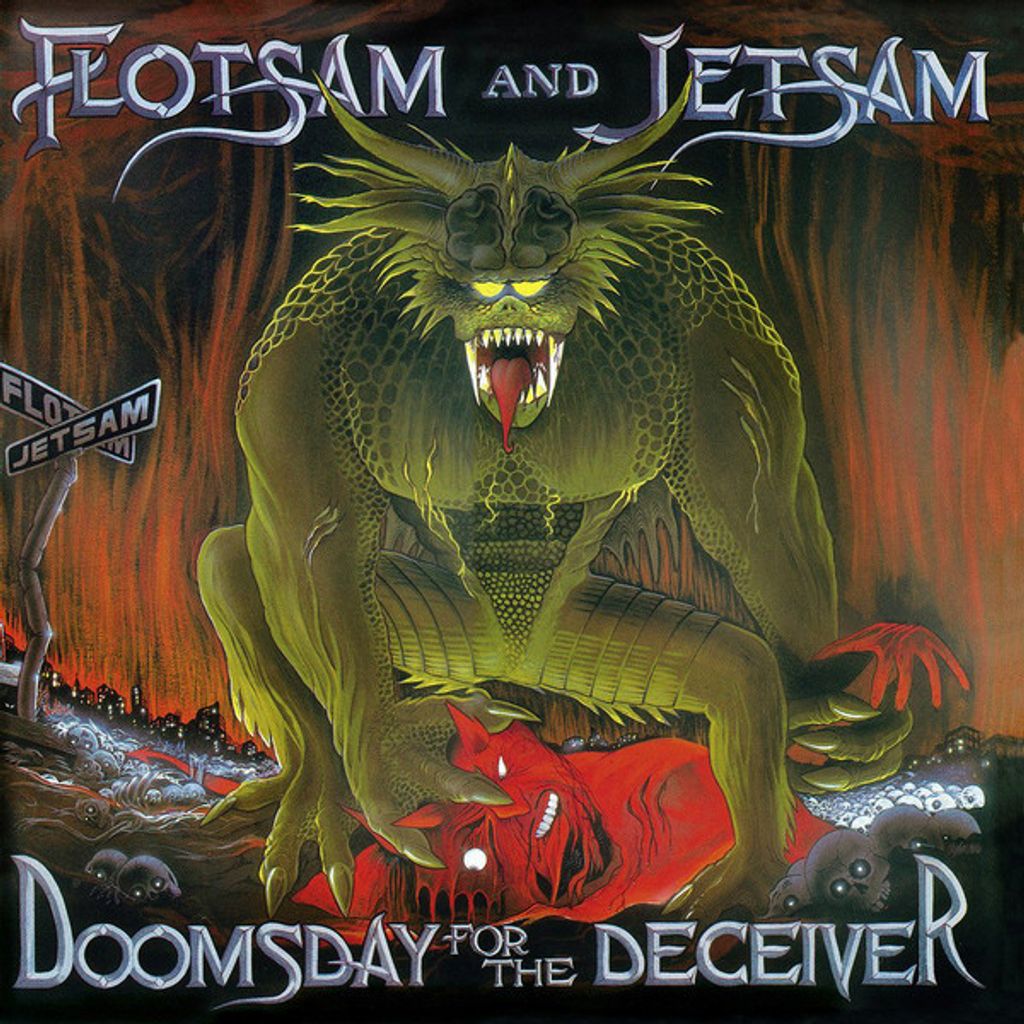 FLOTSAM AND JETSAM Doomsday for the Deceiver (reissue 2018) CD


Doomsday for the Deceiver is the debut album by Flotsam and Jetsam. It was released on July 4, 1986, on a budget of $12,000, and recorded in two weeks. It is the only album by Flotsam and Jetsam with Jason Newsted before his departure for Metallica. Most lyrics were written by Newsted; his songwriting contributions also appeared on the band's next album No Place for Disgrace and their 2012 album Ugly Noise. This album was the first of only a handful to ever receive a 6k rating from the influential British magazine Kerrang!. The album cover can be seen in the 1988 movie Sleepaway Camp II: Unhappy Campers.
Notes
Issued in a 4-panel Digipak, with 18-page poster booklet and clear tray.

Track 14 is a Stormtrooper cover

Mastered at Capitol Records
Remixed and remastered in 2006 for Skullseven Productions

Recorded at:
Music Grinder Recording Studios, Hollywood, CA
Eldorado Recording Studios, Hollywood, CA and
Track Recording Studios, Hollywood, CA

Mixed at Skullseven Studio, Northridge, CA.

Bonus tracks mastered at Red Mastering, Newbury Park, CA

Lyrics reprinted by permission.
© 1986 Bloody Skull Music BMI. Administered by Bug Music.

Metal Shock [demo] recorded at: Chaton Studios - Scottsdale, AZ

©℗ 2018, 2006, 1986 Metal Blade Records Inc.
Manufactured in The EU.

Contains CD-Text.
Label:
Metal Blade Records ‎– 3984-14077-0
Format:
CD, Album, Limited Edition, Reissue, Remastered, Digipak
Country:
Europe
Released:
27 Apr 2018
Genre:
Rock
Style:
Thrash, Speed Metal

Tracklist
1Hammerhead6:13
2Iron Tears3:49
3Desecrator3:47
4Fade To Black2:04
5Doomsday For The Deceiver9:07
6Metalshock8:16
7She Took An Axe5:16
8U.L.S.W4:19
9Der Führer5:43
10Flotzilla (Instrumental)6:08
Metal Shock Demo 1985
11Hammerhead6:34
12The Evil Sheik (Instrumental)5:26
13I Live You Die6:26
14The Beast Within4:09