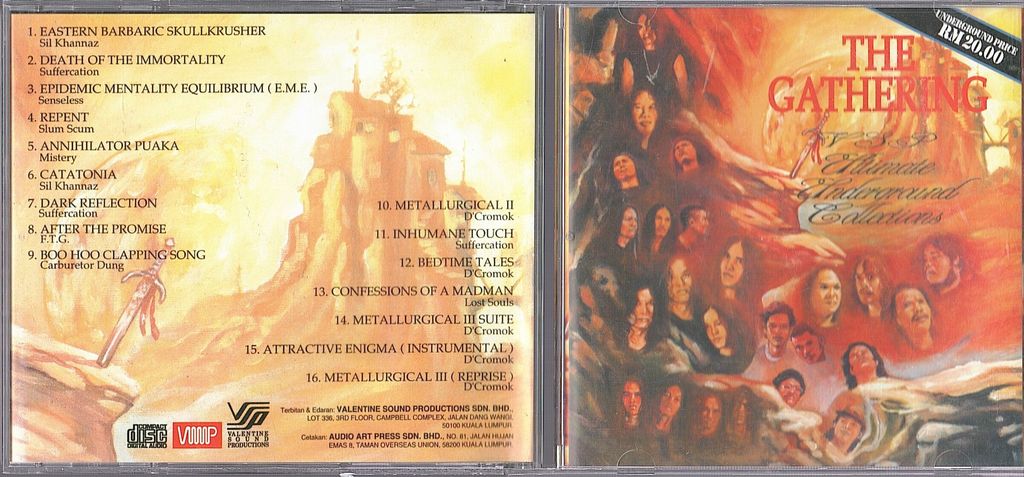 (Used) VARIOUS The Gathering - VSP Ultimate Underground Collections CD (MS)
Label:
Valentine Sound Productions – CD NE 263
Format:
CD, Compilation, Limited Edition, Reissue
Country:
Malaysia
Released:

Genre:
Rock
Style:
Thrash, Death Metal, Hard Rock, Heavy Metal, Punk
Tracklist
1Sil Khannaz–Eastern Barbaric Skullkrusher
2Suffercation–Death Of The Immortality
3Senseless (4)–Epidemic Mentality Equilibrium (E.M.E.)
4Slum Scum–Repent
5Mistery (8)–Annihilator Puaka
6Sil Khannaz–Catatonia
7Suffercation–Dark Reflection
8F.T.G. (2)–After The Promise
9Carburetor Dung–Boo Hoo Clapping Song
10D'Cromok*–Metallurgical II
11Suffercation–Inhumane Touch
12D'Cromok*–Bedtime Tales
13Lost Souls (17)–Confessions Of A Madman
14D'Cromok*–Metallurgical III Suite
15D'Cromok*–Attractive Enigma (Instrumental)
16D'Cromok*–Metallurgical III (Reprise).