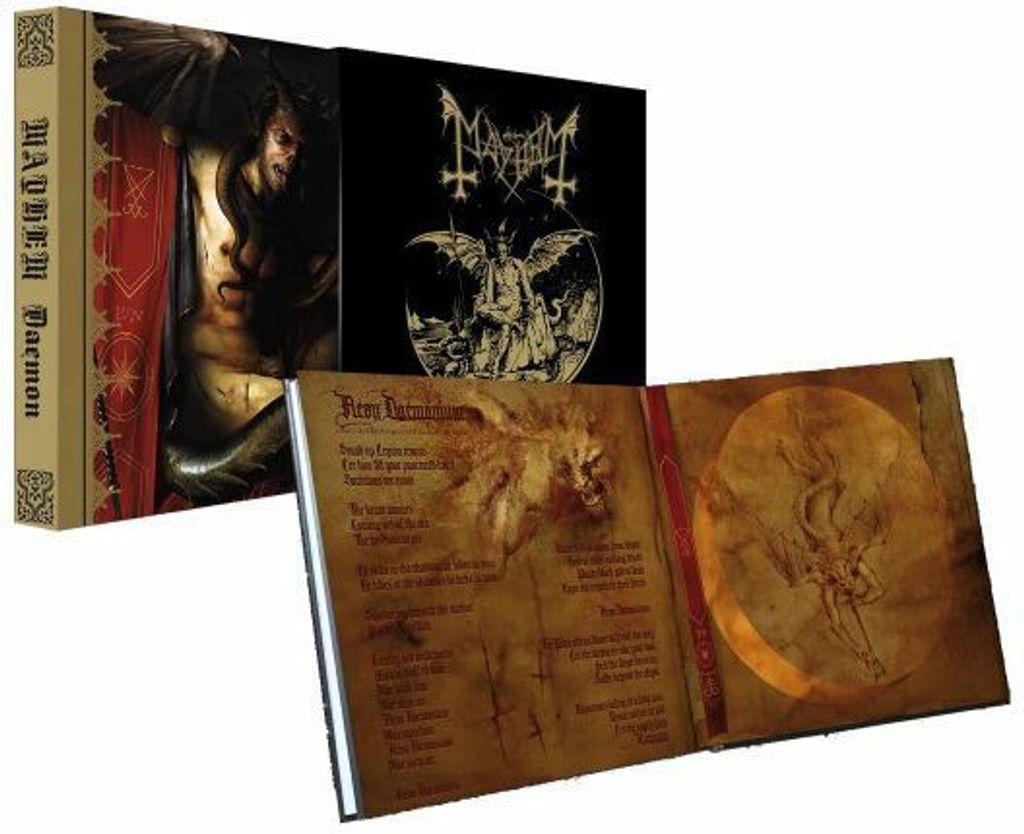 MAYHEM Daemon (limited edition mediabook with bonus tracks) CD


Notes
"Everlasting Dying Flame" and "Black Glass Communion" are a bonus tracks.

Comes in a 28-page mediabook in a slipcase.
Over the course of Mayhem's storied and groundbreaking 35-year career-from De Mysteriis Dom Sathanas (1994) through Esoteric Warfare (2014)-the Norwegians have continuously challenged the orthodoxy of the genre they helped create. Originally informed by greats Hellhammer, Venom, Bathory, and Sodom, the Norwegians eventually imbued their damnable attack with influences from all over the music extreme spectrum, indicated first on the harsh and angular Wolf's Lair Abyss (1997) EP and foremost on the enterprisingly brutal and revolutionary Grand Declaration of War (2000). In 2019, Mayhem yet again reinvent on new album, Daemon."Mayhem will always be Mayhem," says guitarist/songwriter Teloch (aka Morten Bergeton Iversen) says. "If we put the genre game aside a bit, no one else sounds like Mayhem. Even when De Mysteriis came out, it was not at first considered to be a black metal album, if my memory serves me right. Tricky to label this band, metal would be the most fitting; it's not pure black metal in my opinion. Not sure it has ever been actually, despite what the general opinion is. People can call it whatever they want. If it's black metal to them, then fine. We don't really care. But to me it's important to keep some sort of black metal vibe at least."Founded in 1984 in the quaint village of Langhus, Norway by the late (and visionary) frontman Euronymous (aka Oystein Aarseth), Necrobutcher (aka Jorn Stubberud), and Manheim (aka Kjetil Haraldsson), Mayhem's small-town start was nonetheless auspicious; the name Mayhem itself was inspired by the Venom song, "Mayhem with Mercy." By 1986, the Norwegians had ventured headlong into the proverbial abyss with the release of their first demo, Pure Fucking Armageddon, a cacophonous mob of metal so extreme it didn't have a name.
Label:
Century Media ‎– 19075969932
Format:
CD, Album, Limited Edition, Mediabook
Country:
USA & Europe
Released:
25 Oct 2019
Genre:
Rock
Style:
Black Metal

Tracklist
1The Dying False King3:47
2Agenda Ignis4:35
3Bad Blood4:58
4Malum5:06
5Falsified And Hated5:49
6Aeon Daemonium6:04
7Worthless Abominations Destroyed3:48
8Daemon Spawn6:03
9Of Worms And Ruins3:49
10Invoke The Oath5:34
11Everlasting Dying Flame5:53
12Black Glass Communion4:26