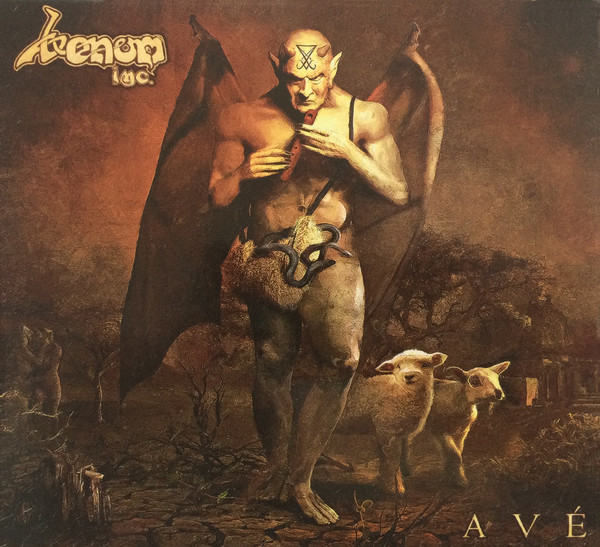 VENOM INC Avé (Limited Edition, Digipak) CD
Notes
CD in 6-panel digipak with 12-page booklet.
Catalog# NB 3801--0 is printed on CD and on the backcover.
Catalog# 27361 38010 is printed on the spine.
Produced, mixed and mastered at ZFT Studios - Portugal.
"Album layout and art [...] for VENOM INC Limited".
Published by Kobalt 4 Valentine Place London SE1 8QH.
"VENOM INC Limited Registered Office in England & Wales 10639690".
Sticker:
"Eleven destructive and groovy tracks
which will please all of the die-hard-fans
of Mantas, Abaddon and a peruliarly
blasphemous Tony Dolan.
Worship the black N' roll!"
ROCK HARD (I)
-----------------------------
LIMITED CD - DIGIPAK
-----------------------------
30 WWW.NUCLEARBLAST.DE 30
Back:
Nuclear Blast ℗ + © 2017
Label:
Nuclear Blast ‎– NB 3801-0, Nuclear Blast ‎– 27361 38010
Format:
CD, Album, Limited Edition, Digipak
Country:
Europe
Released:
11 Aug 2017
Genre:
Rock
Style:
Heavy Metal, Black Metal
Tracklist
1Ave Satanas8:33
2Forged In Hell4:59
3Metal We Bleed5:17
4Dein Fleisch7:11
5Blood Stained5:22
6Time To Die4:06
7The Evil Dead4:19
8Preacher Man6:37
9War4:30
10I Kneel To No God6:20
11Black N' Roll4:45