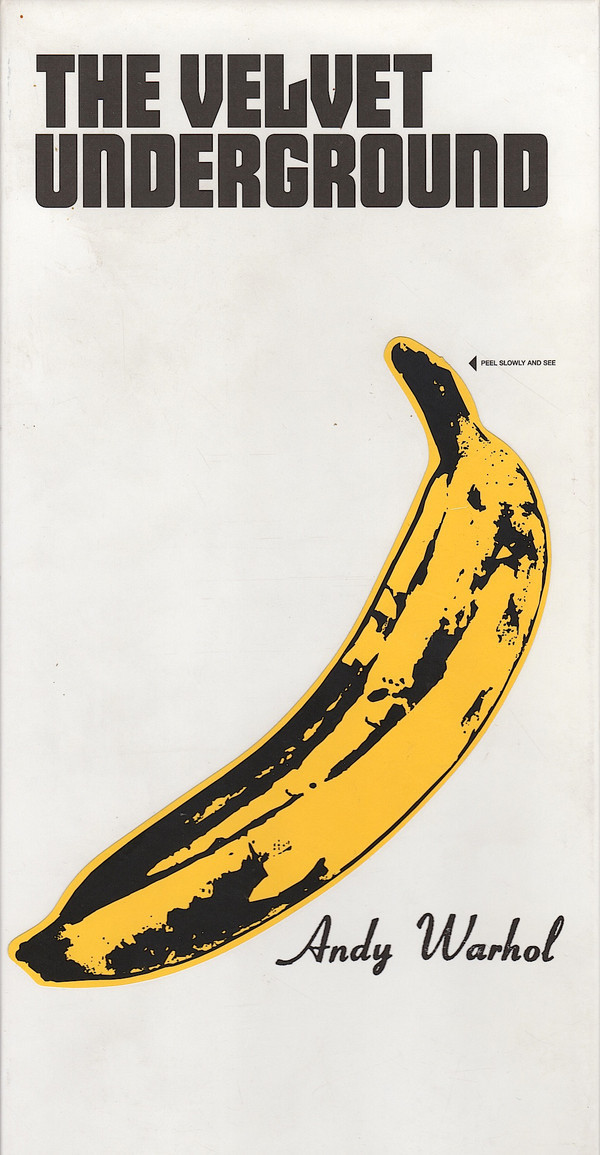 THE VELVET UNDERGROUND Peel Slowly And See BOXSET
Notes
Mastered by Bob Ludwig at Gateway Mastering, Portland, Maine
Additional mastering:
Bill Inglot ɛt Dan Hersch at DigiPrep, Hollywood, California, Dan Kincaid at Master Cutting Room, New York, New York and Joseph M. Palmaccio at PolyGram Studios, Edison, New Jersey.
A sticker on the front shows:
"The long-awaited box set anthology from the legendary Velvet Underground -
Lou Reed, John Cale, Sterling Morrison, Maureen Tucker, Nico and Doug Yule.
The Music:
Five compact disc, over six hours of music, featuring:
NEWLY DIGITALLY REMASTERED VERSIONS OF THE BAND'S FOUR ORIGINAL ALBUMS
The Velvet Underground And Nico
White Light/White Heat
The Velvet Underground
(presented in its rare "closet mix" alternate version)
Loaded
(featuring restored versions of "Sweet Jane" and "New Age").
25 PREVIOUSLY UNRELEASED RECORDINGS
12 historic demos, 7 Loaded-session out-takes and 6 live performances
AND MORE.
The package:
Deluxe 6x12 box with re-peelable banana
88-page, full-color book containing definitive essay, complete credits, dozens of rare photographs and memorabilia."
Label:
Polydor ‎– 31452 7887-2, Chronicles ‎– 31452 7887-2, Polydor ‎– 527 887-2, Chronicles ‎– 527 887-2
Format:
5 × CD, Compilation, Deluxe Edition, Remastered, Stereo, Mono
Box Set, Reissue
Country:
Europe
Released:
Genre:
Rock
Style:
Art Rock, Psychedelic Rock, Garage Rock
Tracklist
1965
1-1Venus In Furs (Demo)15:36
1-2Prominent Men (Demo)4:54
1-3Heroin (Demo)13:34
1-4I'm Waiting For The Man (Demo)9:50
1-5Wrap Your Troubles In Dreams (Demo)15:50
1-6All Tomorrow's Parties (Demo)18:26
1966 / 1967
2-1All Tomorrow's Parties (Mono Single Version)2:52
2-2Sunday Morning2:56
2-3I'm Waiting For The Man4:40
2-4Femme Fatale2:39
2-5Venus In Furs5:13
2-6Run Run Run4:23
2-7All Tomorrow's Parties6:00
2-8Heroin7:13
2-9There She Goes Again2:41
2-10I'll Be Your Mirror2:14
2-11The Black Angel's Death Song3:12
2-12European Son7:48
2-13Melody Laughter (Live)10:45
2-14It Was A Pleasure Then8:05
2-15Chelsea Girls7:24
1967 / 1968
3-1There Is No Reason (Demo)2:14
3-2Sheltered Life (Demo)2:5
3-3It's All Right (The Way That You Live) (Demo)2:48
3-4I'm Not Too Sorry (Now That You're Gone) (Demo)2:19
3-5Here She Comes Now (Demo)2:47
3-6Guess I'm Falling In Love (Live)4:13
3-7Booker T. (Live)6:33
3-8White Light/White Heat2:48
3-9The Gift8:19
3-10Lady Godiva's Operation4:57
3-11Here She Comes Now2:04
3-12I Heard Her Call My Name4:39
3-13Sister Ray17:32
3-14Stephanie Says2:55
3-15Temptation Inside Your Heart2:33
3-16Hey Mr. Rain (Version One)4:40
1968 / 1969
4-1What Goes On (Live)5:38
4-2Candy Says4:06
4-3What Goes On4:38
4-4Some Kinda Love3:42
4-5Pale Blue Eyes5:43
4-6Jesus3:28
4-7Beginning To See The Light4:50
4-8I'm Set Free4:09
4-9That's The Story Of My Life2:08
4-10The Murder Mystery9:01
4-11After Hours2:12
4-12Foggy Notion6:50
4-13I Can't Stand It3:24
4-14I'm Sticking With You2:31
4-15One Of These Days4:03
4-16Lisa Says2:59
4-17It's Just Too Much (Live)3:02
4-18Countess From Hong Kong (Demo)3:18
1970
5-1Who Loves The Sun2:45
5-2Sweet Jane (Full Length Version)4:08
5-3Rock And Roll4:46
5-4Cool It Down3:06
5-5New Age (Full Length Version)5:11
5-6Head Held High2:58
5-7Lonesome Cowboy Bill2:45
5-8I Found A Reason4:18
5-9Train Round The Bend3:23
5-10Oh! Sweet Nuthin'7:30
5-11Satellite Of Love3:02
5-12Walk And Talk It2:23
5-13Oh Gin2:46
5-14Sad Song3:34
5-15Ocean5:47
5-16Ride Into The Sun3:25
5-17Some Kinda Love (Live)10:22
5-18I'll Be Your Mirror (Live)2:10
5-19I Love You2:03