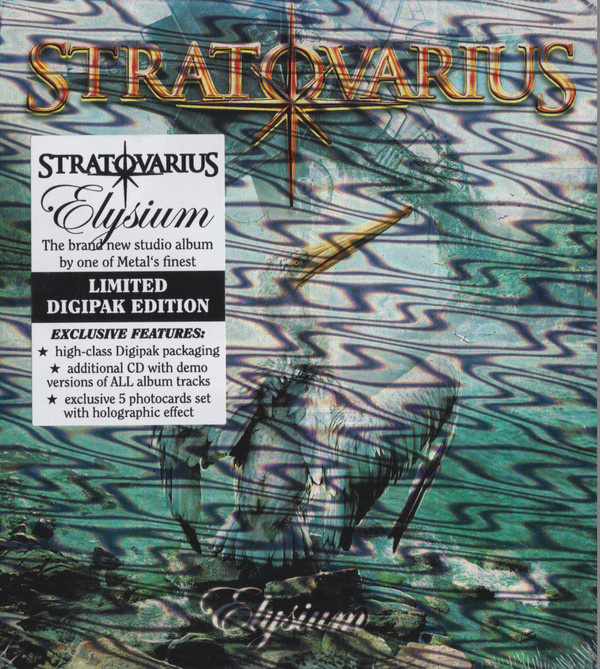 STRATOVARIUS Elysium (Deluxe Edition) CD+DVD
Notes
Recorded at 5 by 5 Studios.
Mixed at Finnvox and 5 by 5 Studios.
Mastered at Chartmakers.

℗ & © 2011 Edel Germany GmbH
Made in Germany

CD1 is the standard edition of the album "Elysium".
CD2 contains all songs of "Elysium" as demo versions.

This edition has holographic effect on digipak and comes with 5 photocards.
Only the Digipak has holographic effect though the accompanying info sticker says the 5 photocards would have the holographic effect too.
Label:
Ear Music ‎– 0206222ERE
Format:
CD, Album
CD
All Media, Limited Edition, Digipak
Country:
Europe
Released:
2011
Genre:
Rock
Style:
Heavy Metal, Power Metal

Tracklist
1-1Darkest Hours4:11
1-2Under Flaming Skies3:52
1-3Infernal Maze5:33
1-4Fairness Justified4:21
1-5The Game Never Ends3:54
1-6Lifetime In A Moment6:39
1-7Move The Mountain5:34
1-8Event Horizon4:24
1-9Elysium18:07
The Demo Versions
2-1Darkest Hours4:28
2-2Under Flaming Skies4:13
2-3Infernal Maze6:21
2-4Fairness Justified4:21
2-5The Game Never Ends3:53
2-6Lifetime In A Moment6:01
2-7Move The Mountain5:24
2-8Event Horizon3:59
2-9Elysium18:52