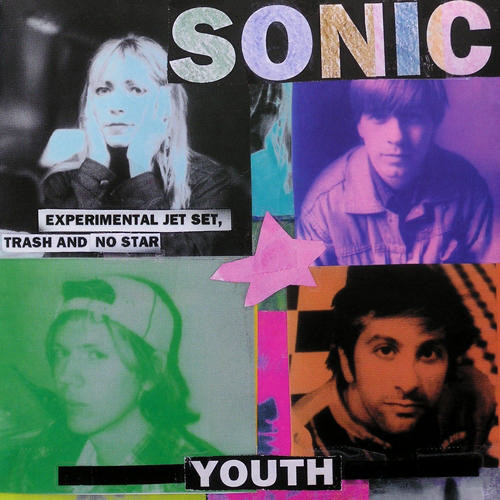 SONIC YOUTH Experimental Jet Set, Trash And No Star (Reissue, 180 Gram) LP
Notes
Printed on rear:
"Super sound capturing, earth tweeking, dennis adjusting, speed mixing by Butch Vig. Dat referencing, faders and mutes, mike replacement, initial eq's, secondary flattening, playback filtering by John Siket. Sound chamber at Sear Sound, NYC. Mix world at Sear Sound, NYC, and Sound On Sound, NYC. Cut to sex vinyl by Golden Mastering, Ventura, CA. Arc/weld hyper-assist by Bil Emmons, Ollie Cotton, Fred Kevorkian, Walter Sear (Sear Sound), Ed Raso, Devin Emke (Sound On Sound). Notes and chords in excelsis © 1994 by Sonik Tooth and administered by Kobalt Music Publishing (BMI), rocked late '93
released early '94".

Includes voucher to download MP3 version of the album.
Black & White printed insert. White poly lined inner sleeve.
Made in the EU.
Label:
DGC ‎– 00602547349392, Universal Music Group International ‎– 00602547349392
Series:
Back To Black –
Format:
Vinyl, LP, Album, Reissue, 180 Gram
Country:
Europe
Released:
07 Oct 2016
Genre:
Rock
Style:
Noise, Indie Rock, Alternative Rock, Experimental

Tracklist
A1Winner's Blues2:07
A2Bull In The Heather3:04
A3Starfield Road2:15
A4Skink4:12
A5Screaming Skull2:38
A6Self-Obsessed And Sexxee4:30
A7Bone3:57
B1Androgynous Mind3:21
B2Quest For The Cup2:30
B3Waist2:49
B4Doctor's Orders4:20
B5Tokyo Eye3:55
B6In The Mind Of The Bourgeois Reader2:33
B7Sweet Shine5:26