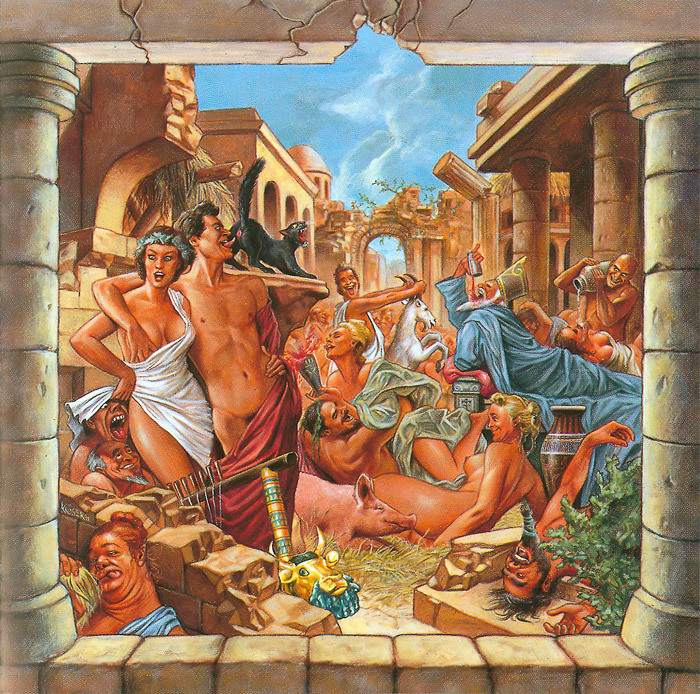 SODOM Mortal Way Of Live (Including bonus tracks) CD
Notes
Recorded live during the SODOMANIA-tour April/May 1988.

Recorded using Dierks Mobile Studio.
Mixed at Horus Sound Studio.

Due to censorship the original cover (a colored drawing of the city of Sodom) is replaced by a black cover with a white circle featuring the band logo, album title, a notation about the inclusion of a bonus track and the catalog #.
Although, the booklet is a one-sheet folded cover, easily reversible revealing the cover as it "should be"; leaving it to the purchaser to decide which front cover to use.

Track 14 is a CD-version bonus track.

Track 4 originally performed by Motörhead.

©&℗ 1988 Steamhammer.
Cover artwork © Sebastian Krüger.
Label:
Steamhammer ‎– SPV 85-7576, Steamhammer ‎– CD 85-7576
Format:
CD, Album, Repress
Country:
Germany
Released:
Genre:
Rock
Style:
Thrash
Tracklist
1Persecution Mania4:44
2Outbreak Of Evil3:46
3Conqueror3:00
4Iron Fist2:56
5Obsessed By Cruelty8:54
6Nuclear Winter5:55
7Electrocution3:06
8Blasphemer6:00
9Enchanted Land4:15
10Sodomy & Lust5:02
11Christ Passion6:24
12Bombenhagel6:40
13My Atonement5:57
14Conjuration5:26