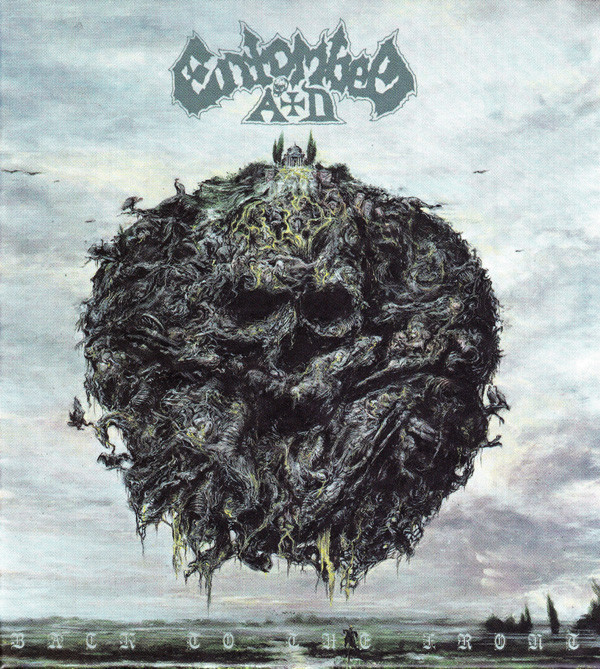 ENTOMBED A.D. Back To The Front (limited mediabook) CD
Notes
Produced at Bohus Sound Studios, kungälo
Mixed at Hansa Mix Room, Berlin
Mastered at Sterling Sound, NY

(c) & (p) 2014 Century Media Records Ltd. Manufactured in Germany
The limited 24-page CD Mediabook in portrait format comes in a chic hardcover slipcase and the included CD includes a bonus track.
Explaining the meaning and influence of Entombed is probably as superfluous as attempting to clarify why Slayer rule, Lemmy holds God status, and Dio's death was the hardest loss of recent Metal history. A legend is a legend. Point.
Produced by Roberto Laghi (InFlames, Hardcore Superstar) in Studio Bohus (Abba, Europe) in Kungälv, Entombed AD are also musically faithful to the well-revered Entombed sound every second, but do not expire in retrospective attempts the early classic Left Hand Path or Clandestine , but present a versatile mix that should blow the tears of joy to all fans of the band.

From the morbid, pissed off lyrics to the massive riffs and the inimitable groove of LG's murderous tube, Back To The Front delivers impeccably and impresses visually with a powerful cover painting by Necropolitus Cracoviensis Zbgniew Bielak II (Watain, Ghost, Vader), that respectfully builds a bridge to old days.
Label:
Century Media ‎– 9983810
Format:
CD, Album, Limited Edition, Mediabook
Country:
Germany
Released:
04 Aug 2014
Genre:
Rock
Style:
Death Metal
Tracklist
1Kill To Live4:44
2Bedlam Attack4:44
3Pandemic Rage4:02
4Second To None4:28
5Bait And Bleed4:37
6Waiting For Death2:56
7Eternal Woe5:08
8Digitus Medius6:01
9Vulture And The Traitor4:45
10The Underminer2:57
11Soldier Of No Fortune6:50
Special Edition Track
12Gospel Of The Horns4:34