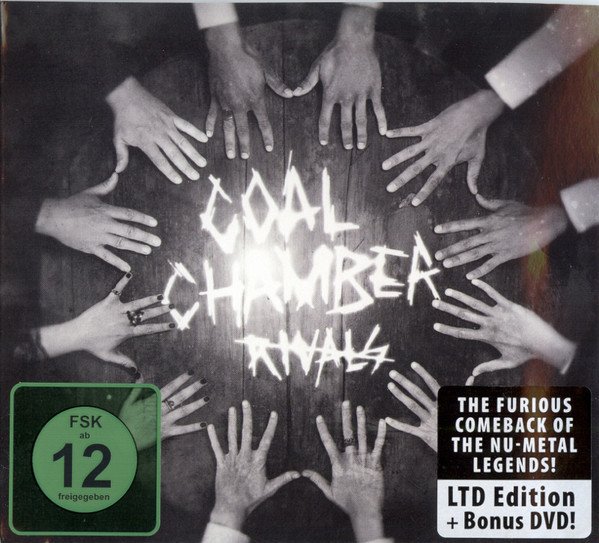 COAL CHAMBERS Rivals (Limited Edition, Digipak) CD + DVD
Notes
© & ℗ 2015 Napalm Records Handels GmbH
Hammerplatz 2 / 8790 Eisenerz / Austria
PO Box 153220 /Austin, Texas / 78715-3220 USA
www.napalmrecords.com

Made in Germany

Includes BONUS-DVD - "Making of Rivals"
All songs published by © Forneus Music (ASCAP)

Tracks 14 "Worst Enemy" is a bonus track; "(Bonus Track)" is appended to the track title.

Copies sold by Best Buy have front sticker erroneously indicating the release as a Best Buy exclusive.

Released in a 6-panel Digipak with clear trays on the middle and right panels and a diagonal pocket for the booklet on the left panel; includes a 16-page booklet with lyrics.
Track durations do not appear on the release.
Label:
Napalm Records ‎– NPR 585 LTD/BB
Format:
CD, Album
DVD, DVD-Video, NTSC
All Media, Limited Edition, Digipak
Country:
USA & Europe
Released:
25 May 2015
Genre:
Rock
Style:
Nu Metal

Tracklist
CD-1I.O.U. Nothing3:03
CD-2Bad Blood Between Us4:00
CD-3Light In The Shadows3:41
CD-4Suffer In Silence3:52
CD-5The Bridges You Burn3:38
CD-6Orion1:12
CD-7Another Nail The Coffin3:21
CD-8Rivals4:31
CD-9Wait2:45
CD-10Dumpster Dive1:10
CD-11Over My Head3:36
CD-12Fade Away (Karma Never Forgets)2:53
CD-13Empty Handed3:58
CD-14Worst Enemy4:03