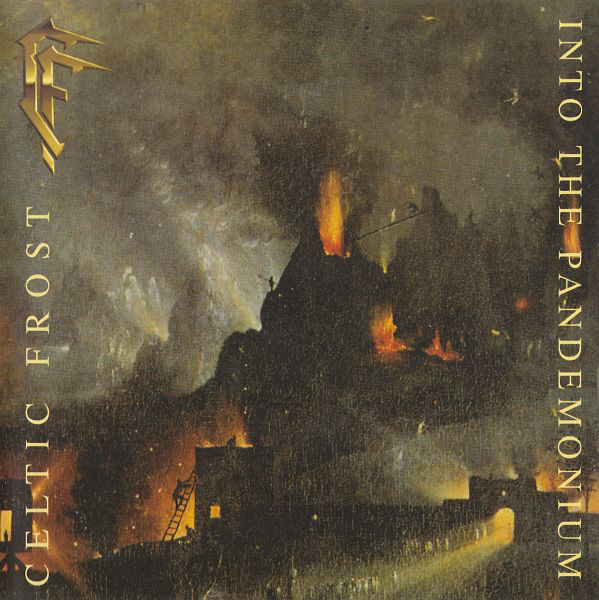 CELTIC FROST Into The Pandemonium CD
Notes
Recorded January / February / March / April 1987 at Horus Sound Studio, Hannover, Germany.

All tracks remastered 1999, tracks 13, 14 & 15 not included on original CD release. Track 15 previously unreleased.
1999 remastering at Oakland Recording, Winterthur, Switzerland.

© 1987 Maldoror Musikverlag GmbH ℗ 1999 Modern Music Records GmbH
All songs published by Maldoror Musikverlag, except "Mexican Radio" by Big Talk/Illegal Music and "In The Chapel, In The Moonlight" by Shapiro, Bernstein & Co./Francis Day & Hunter.

"Mexican Radio" originally performed by Wall Of Voodoo.
"In The Chapel, In The Moonlight" originally performed by Dean Martin.
Label:
Noise Records ‎– N 0327-2
Format:
CD, Album, Reissue, Remastered, Repress
Country:
Europe
Released:

Genre:
Electronic, Rock
Style:
Avantgarde, Heavy Metal, Thrash

Tracklist
1Mexican Radio3:29
2Mesmerized3:24
3Inner Sanctum5:16
4Tristesses De La Lune3:00
5Babylon Fell (Jade Serpent)4:19
6Caress Into Oblivion (Jade Serpent II)5:14
7One In Their Pride (Porthole Mix)2:51
8I Won't Dance (The Elders' Orient)4:33
9Sorrows Of The Moon3:04
10Rex Irae (Requiem)5:58
11Oriental Masquerade1:16
12One In Their Pride (Re-Entry Mix)5:54
13In The Chapel, In The Moonlight2:04
14The Inevitable Factor4:38
15The Inevitable Factor (Alternate Vox)4:38