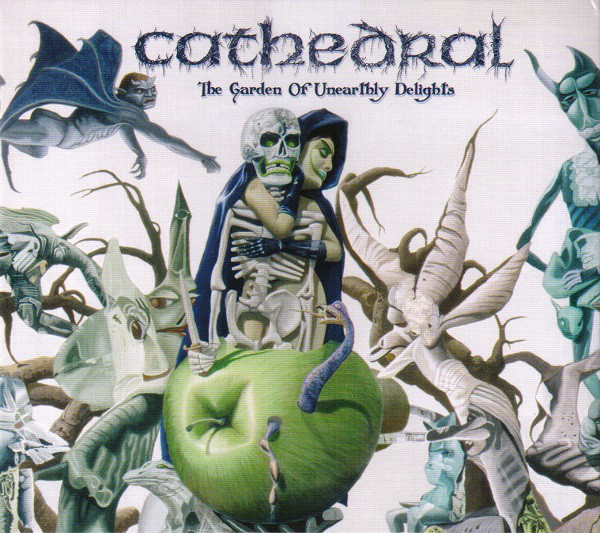 CATHEDRAL The Garden Of Unearthly Delights CD
Notes
Track 9 'The Garden' has 8 movements some of which are separated into smaller movements.
Track 10 'Proga - Europa' is an unlisted hidden song which is 0:58 seconds long, with 5:00 minutes of lead-in silence.
Sony's Sniffle Disc technology is used on the disc, friction and/or heat cause it to release an apple scent, this should work for up to 1 year.
The booklet folds out to a poster, lyrics and artwork are included.
Catalogue number 27361 11990 is on the Digipak spine.
Recorded at New Rising Studios, Essex, England May 2005.
All songs - Cathedral Psalms / EMI Music.
℗ + © 2005 Nuclear Blast GmbH
Manufactured in Germany.
Label:
Nuclear Blast ‎– NB 1199-0, Nuclear Blast ‎– 27361 11990
Format:
CD, Album, Limited Edition, Sniffle Disc (Green Apple Scent), Digipak
Country:
Germany
Released:
2005
Genre:
Rock
Style:
Doom Metal
Tracklist
1Dearth AD1:00
2Tree Of Life & Death4:36
3North Berwick Witch Trials5:58
4Upon Azrael's Wings5:38
5Corpsecycle5:54
6Fields Of Zagara1:59
7Oro The Manslayer7:29
8Beneath A Funeral Sun5:20
9The Garden26:59
10Proga - Europa5:58