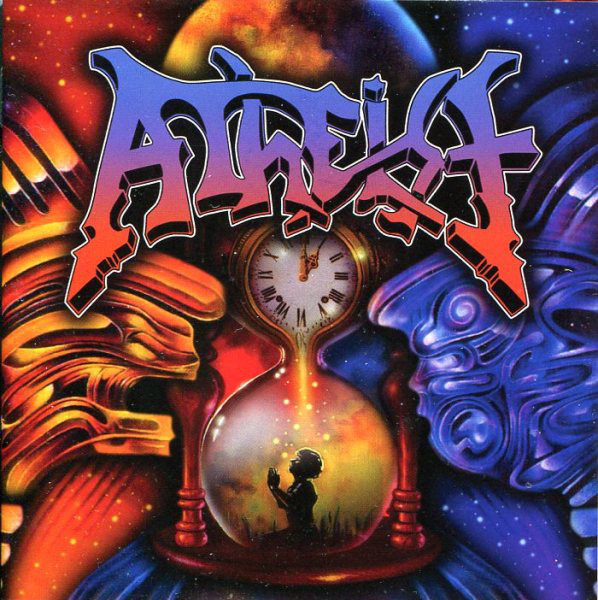 ATHEIST Unquestionable Presence: Live at Wacken 2CD
Notes
Issued in a jewel case, with 24-page booklet and Obi.

Disc One:
Recorded at Wacken Open Air Festival, 2006
Mixed and mastered at LedBelly Studios in Atlanta, GA.

Disc Two:
Piece Of Time, I Deny, Unholy War and Room With A View taken from the album Piece Of Time.

Mother Man, Unquestionable Presence, And The Psychic Saw and An Incarnation's Dream taken from the album Unquestionable Presence.

Mineral, Water and Air taken from the album Elements.

All photography used courtesy of Atheist.

℗& © 1988, 1991, 1993, 2009. Issued under exclusive license from Starrfactory Records, Inc. to Relapse Records, Inc.
Label:
Relapse Records ‎– RR7040
Format:
CD, Album
CD, Compilation
Country:
US
Released:
21 Jul 2009
Genre:
Jazz, Rock
Style:
Fusion, Death Metal, Latin Jazz
Tracklist
Unquestionable Presence: Live At Wacken
1-1Unquestionable Presence4:53
1-2On They Slay4:01
1-3Unholy War2:28
1-4Your Life's Retribution3:17
1-5An Incarnation's Dream3:54
1-6Mother Man5:59
1-7And The Psychic Saw5:29
1-8Piece Of Time5:58
Pieces Of Time: Atheist 1988-1993
2-1Piece Of Time4:33
2-2I Deny4:00
2-3Unholy War2:18
2-4Room With A View4:05
2-5Mother Man4:33
2-6Unquestionable Presence4:07
2-7And The Psychic Saw4:49
2-8An Incarnation's Dream4:52
2-9Mineral4:33
2-10Water4:28
2-11Air5:34