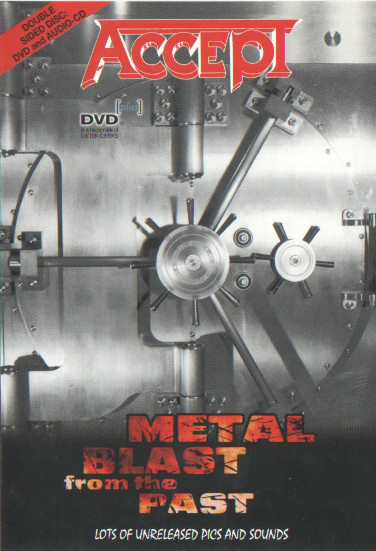 ACCEPT Metal Blast from the Past CD+DVD
Notes
Hybrid disk DVD one side CD on other side.

Dvd Extras-
Behind The Scenes-Videoshots Of sound checks,Interviews,The life on tour,etc.
Photo Gallery-Many photos taken from photosessions all over the years.
Discography-All the album covers all(yes,all!)the lyrics.
Biography-The history of the band from the very beginning to the end.
Audio Selection-A minimum of two songsamples of every album ever released.
Websites-Go online and visit all associated websites.
Label:
Breeze Music ‎– 82876 502709, Drakkar Records ‎– 82876 502709, Bertelsmann Music Group ‎– 82876 502709
Format:
Hybrid, DVDplus, NTSC
CD, Album
Country:
Germany
Released:
2002
Genre:
Rock
Style:
Heavy Metal

Tracklist
Staying A Life: Live Video Osaka 1985
DVD-01Metal Heart
DVD-02Breaker
DVD-03Screaming For A Love-Bite
DVD-04Up To The Limit
DVD-05Living For Tonite
DVD-06Princess Of The Dawn
DVD-07Restless And Wild
DVD-08Son Of A Bitch
DVD-09London Leatherboys
DVD-10Fast As A Shark
DVD-11Balls To The Wall
DVD-12Outro(Bound To Fail)
Videoclips
DVD-13I'm A Rebel
DVD-14Balls To The Wall
DVD-15Midnight Mover
DVD-16Generation Clash
DVD-17Protectors Of Terror
DVD-18Slaves To Metal
DVD-19Death Row
Live Sophia '93
DVD-20Starlight
DVD-21Slaves To Metal
DVD-22Objection Overruled
Extras
DVD-23Behind The Scenes
DVD-24Photo Gallery
DVD-25Discography
DVD-26Biography
DVD-27Audio Selection
DVD-28Websites
CD-Previously Unreleased Audio Tracks
CD-1Rich And Famous (Bonus Track Of The Album "Objection Overruled",Released In Japan Only)
CD-2Rocking For The Sun (Recorded For The Album "I'm A Rebel" But Never Released)
CD-3Morning Sun (Recorded For The Album "I'm A Rebel" But Never Released
CD-4Run If You Can (8-Track Demo Version For The Album "Breaker")
CD-5Down And Out (8-Track Demo Version For The Album "Breaker")
CD-6Can't Stand The Night (8-Track Demo Version Fot The Album "Breaker")
CD-7Breaker (8-Track Demo Version For The Album "Breaker")
CD-8Burning (8-Track Demo Version For The Album "Breaker")
CD-9Writing On The Wall (Acoustic Version For The Album "Death Row")