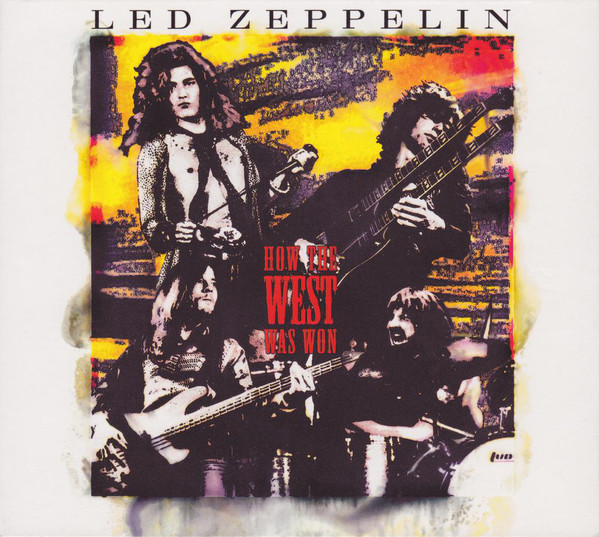 (Used) LED ZEPPELIN How The West Was Won 3CD
Notes
"While I was searching through the archives for visual and audio material for the Led Zeppelin DVD I re-discovered these 1972 performances from the 25th June, LA Forum and 27th June, Long Beach Arena. This is Led Zeppelin at its best and an illustration of How The West Was Won.

Jimmy Page, London, March 2003"

Live at Long Beach Arena: 1-1 to 1-3, 1-6 to 1-8, 1-10, 2-2, 2-3, 3-2
Live at L.A. Forum: 1-4, 1-5, 1-9, 2-1, 2-4, 3-1, 3-3, 3-4

Comes in a 6-panel Digipak.
Some copies include a two-sided square insert advertising for this release and the DVD/VHS release.

Total playing time (CD1): 56 mins, 9 secs
Total playing time (CD2): 53 mins, 10 secs
Total playing time (CD3): 40 mins, 52 secs

℗ © 2003 Atlantic Recording Corporation for the United States and WEA International Inc. for the world outside of the United States.
Made in Germany by Warner Music Manufacturing Europe.
Label:
Atlantic ‎– 7567-83587-2
Format:
3 × CD, Album, Digipak
Country:
Europe
Released:
2003
Genre:
Rock
Style:
Hard Rock, Classic Rock, Blues Rock

Tracklist
1-1LA Drone0:14
1-2Immigrant Song3:42
1-3Heartbreaker7:25
1-4Black Dog5:41
1-5Over The Hills And Far Away5:08
1-6Since I've Been Loving You8:02
1-7Stairway To Heaven9:38
1-8Going To California5:37
1-9That's The Way5:54
1-10Bron-Yr-Aur Stomp4:55
2-1aDazed And Confused25:25
2-1bWalter's Walk
2-1cThe Crunge
2-2What Is And What Should Never Be4:41
2-3Dancing Days3:42
2-4Moby Dick19:20
3-1aWhole Lotta Love23:08
3-1bBoogie Chillun2:37
3-1cLet's Have A Party1:52
3-1dHello Marylou3:08
3-1eGoing Down Slow8:39
3-2Rock And Roll3:56
3-3The Ocean4:21
3-4aBring It On Home9:30