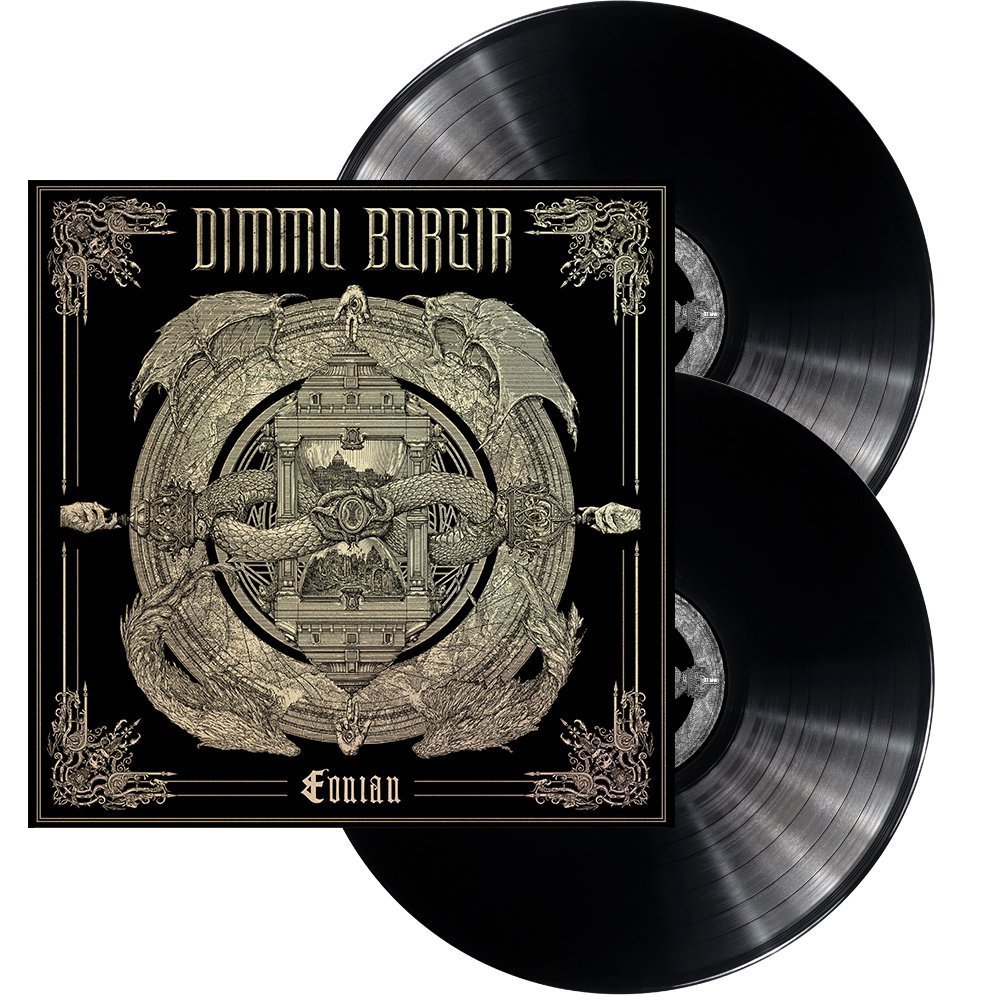 (Back Order) DIMMU BORGIR Eonian 2LP
Over seven years, deathlike silence has filled the halls of the world's biggest black metal forge, DIMMU BORGIR, whilst powers have been gathering to resurrect the band right in time for their 25th anniversary. Now they finally mark their return with a vicious work of art that can be defined as timeless in the truest sense of the word: 'Eonian'.Conceived in the heart of the Norwegian black metal scene in 1993, DIMMU BORGIR quickly broke free from the boundaries of the genre, daring to combine a traditional raven black sound with opulent symphonic orchestration. Soon they turned into pioneers of their field, forging groundbreaking albums such as 'Enthrone Darkness Triumphant' (1997), 'Spiritual Black Dimensions' (1999), or 'Death Cult Armageddon' (2003), invading the entire world with headline tours and eventually turning into the most influential act of their genre after nine full-length studio releases.
From a musical point of view, the band explores their boundaries in every direction with this new record, with the black metal parts even rougher and darker than before, and the epic, orchestral moments pushed to their ultimate limits. This time DIMMU BORGIR were aiming for a more organic sound for their devilish offerings, and reached out to Jens Bogren, who engineered the 10 new tracks inside his Fascination Street studios. The cover artwork was designed in fascinating detail by Zbigniew M. Bielak. "'Eonian' represents the illusion of time, everything that is and always has been. For us, it also marks the 25th anniversary of DIMMU BORGIR and the album itself is a tribute to our own history and the Norwegian black metal history", explains Shagrath.
Thus, both classic black metal invasions such as 'Lightbringer', but also highly symphonic charged anthems like 'Interdimensional Summit' gather on 'Eonian', with one of the band's personal favourites being the experimental, folkloristic 'Council of Wolves And Snakes'. Risking a look far beyond the horizon, this song proves that the band follows 'no formula, no absolute', as Silenoz vows, and shows that the path sometimes guides them to places they would have never expected to end up when they started their journey.
On the previous album, 'Abrahadabra', the Norwegians irritated some militant black metal elitists by appearing in opulent white / gray costumes. And although they chose a different appearance for 'Eonian', DIMMU BORGIR always keep new surprises in store:"We're definitely a band that does not follow any set of 'rules', if any; we're out to break them – for sure. Not that it's a goal per se, it's just who we are. We knew the white/grey look would raise a few eyebrows but whatever we do, or not do, we'll end up raising eyebrows", Silenoz states and Shagrath adds: "The album feels like a rebirth, but also like a logical continuation. Our music comes naturally. We're not sitting down in a circle, thinking about what we could do next – it has to come with a flow and with whatever is in your mind at that time, it needs to be spontaneous and is exactly what we could do at that time. Each one of our releases was linked to a certain time period of our life."