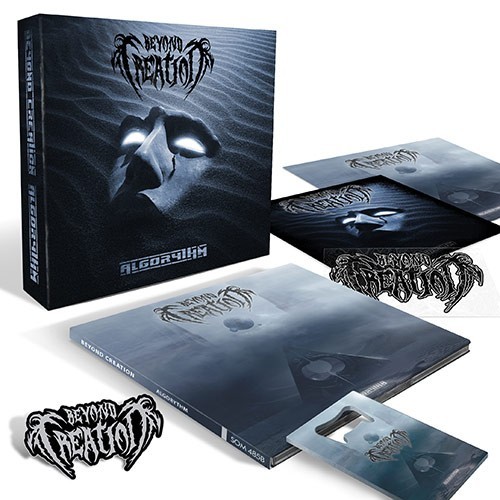 (Back Order) BEYOND CREATION Algorythm (limited edition) BOXSET CD
Release 19 October 2018
Deluxe Digibox edition with alternative cover containing 'Algorythm' on CD deluxe Digipak with embossing and 12 page booklet including 2 bonus tracks ("Surface's Echoes" and "The Afterlife"). Also contains a bottle opener + metal pin with BEYOND CREATION logo + 3 stickers limited to 3,500 copies worldwide. All items in this box are exclusive to this edition.
In 2018, BEYOND CREATION recorded their highly-anticipated third album 'Algorythm'. With the new album, BEYOND CREATION delivers a ferocious blend of technicality, melody, and brutality aided by fang-filled growls, interwoven with beautiful progressive interludes.
Feel the onrush of sweeping arpeggios, crushing waves of fretless bass, complex rhythmical patterns and erupting scales peppered with jazzy feeling and masterful execution. With 'Algorythm', prepare for the lightning evolution of progressive tech death!