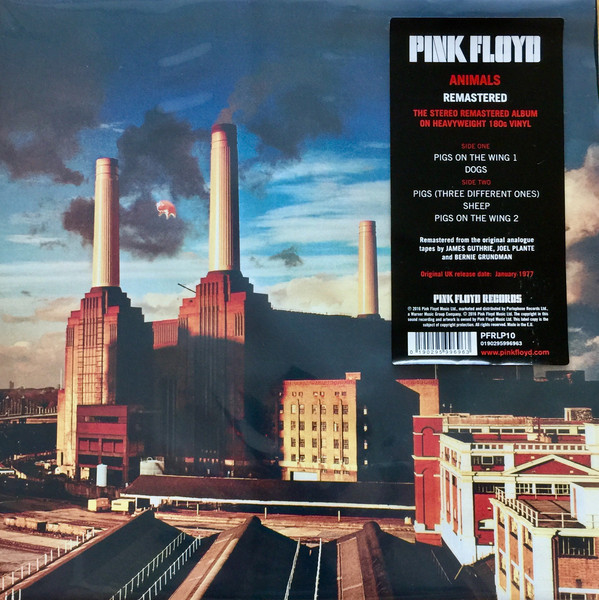 (Back Order) PINK FLOYD Animals (2016 Reissue, Remastered, 180gm) LP
Notes
Issued in a gatefold sleeve with a cardboard inner sleeve which has rounded corners
printed with lyrics, publishing and copyright details on both sides.
Hype sticker is affixed to the shrinkwrap. The French release is exactly the same except sticker text is in French instead of English.

1st cat# PFRLP10 is printed on sticker, rear sleeve & spine.
2nd cat# PFRLP 10 is printed on the inner sleeve
3rd cat# 0190295996963 is printed on sticker, inner sleeve & rear sleeve.

Hype sticker on shrinkwrap reads:
"The stereo remastered album on heavyweight 180ɢ vinyl.
Remastered from the original analogue tapes by James Guthrie, Joel Plante and Bernie Grundman.
Original UK release date: January 1977"


Label:
Pink Floyd Records ‎– PFRLP10, Pink Floyd Records ‎– PFRLP 10, Pink Floyd Records ‎– 0190295996963
Format:
Vinyl, LP, Album, Reissue, Remastered, Gatefold, 180 Gram
Country:
Europe
Released:
18 Nov 2016
Genre:
Rock
Style:
Prog Rock

Tracklist
A1Pigs On The Wing (Part One)
A2Dogs
B1Pigs (Three Different Ones)
B2Sheep
B3Pigs On The Wing (Part Two)