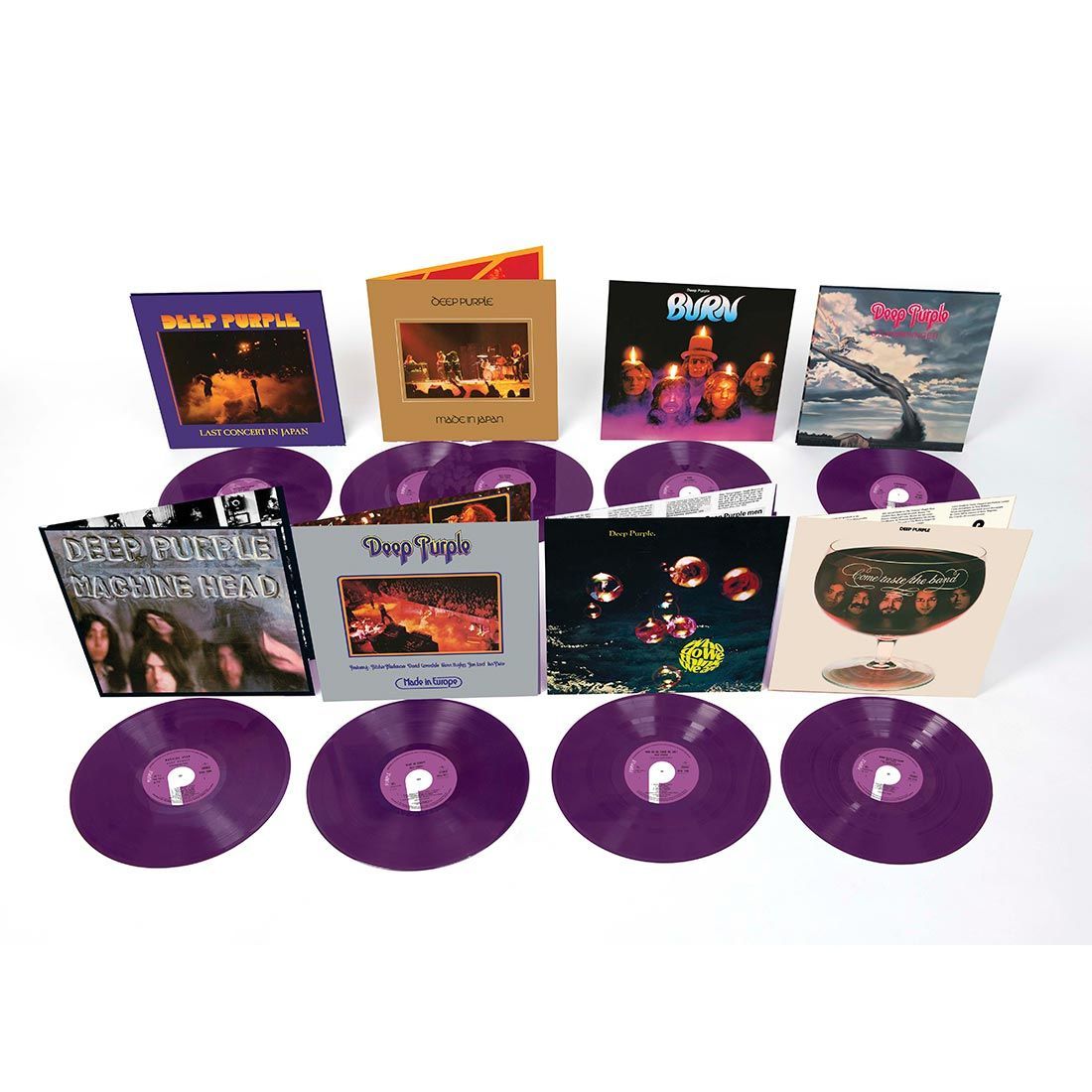 (Back Order) DEEP PURPLE Colour LP
Deep Purple and Universal Music Group announce a very special limited edition collection of reissues of classic Deep Purple albums from 1972-77. Studio albums Machine Head [1972], Who Do We Think We Are? [1973], Burn [1974], Stormbringer [1974] & Come Taste the Band [1975] receive brand new reissue treatment, as well as historic live packages Made in Japan [1972], Made in Europe [1976] & Last Concert in Japan [1977].
All albums have been cut from new digital transfers of the original master tapes at Abbey Road Studios, cut to heavyweight 180-gram purple vinyl. Artwork has been faithfully replicated to match the original pressings in conjunction with the band. All vinyl albums also come with download codes and is next in a line-up of classic Deep Purple reissues coming from Universal Music.
Last Concert in Japan - Recorded at the last show by the Mk4 line up in Tokyo, this album is a fine document of the band at the time and contains what is seen as the definitive version of 'Wild Dogs' (a fine tribute to the late Tommy Bolin).
TRACKS
Side One
1Burn
2Love Child
3You Keep on Moving
4Wild Dogs
Side Two
1Lady Luck
2Smoke on The Water
3Soldier of Fortune
4Woman from Tokyo
5Highway Star
Who Do We Think We Are? - The last album (until 1984) released with the classic Mk2 line up. It racked up massive sales at the time and contains the classic 'Woman from Tokyo' which is still performed live to this day.
TRACKS
Side One
1Woman from Tokyo
2Mary Long
3Super Trouper
4Smooth Dancer
Side Two
1Rat Bat Blue
2Place in Line
3Our Lady
Machine Head - Deep Purple's sixth studio album released in 1972, Machine Head is regarded as one of the cornerstones of heavy metal, it contains the classics 'Smoke on the Water' and 'Highway Star', Ozzy Osbourne has sited this album as one of the greatest of all time.

Side One
1Highway Star
2Maybe I'm A Leo
3Pictures of Home
4Never Before
Side Two
1Smoke on The Water
2Lazy
3Space Truckin'
Burn - The band's first album with now heavy Rock legends, Vocalist, David Coverdale and bassist, Vocalist Glenn Hughes is seen as a rock classic and contains Fan favorites 'Burn' and 'Might Just Take Your Life'
TRACKS
Side One
1Burn
2Might Just Take Your Life
3Lay Down, Stay Down
4Sail Away
Side Two
1You Fool No One
2What's Goin' On Here
3Mistreated
4"A" 200
Stormbringer - The follow up to Burn and released in the same year (1974) was the last to feature Ritchie Blackmore (until 1984) still packs a punch with such songs as the title track 'Stormbringer' and 'Lay Down Stay Down'.
TRACKS
Side One
1Stormbringer
2Love Don't Mean A Thing
3Holy Man
4Hold On
Side Two
1Lady Double Dealer
2You Can't Do It Right (With the One You Love)
3High Ball Shooter
4The Gypsy
5Soldier of Fortune
Come Taste the Band - Featuring new guitarist Tommy Bolin, Come Taste the Band is seen as a fan favorite who rightly praise Bolin's guitar work on such tracks as 'Getting' Tighter' and 'You Keep on Moving'.
TRACKS
Side One
1Comin' Home
2Lady Luck
3Gettin' Tighter
4Dealer
5I Need Love
Side Two
1Drifter
2Love Child
3This Time Around / Owed To 'G' (Instrumental)
4You Keep on Moving
Made in Japan - Seen by many as one of the greatest live albums of all time, Made in Japan sees the band in full force over consecutive nights in Osaka and Tokyo it covers all the bands classic tracks including 'Lazy' and the epic 'Space Truckin''
TRACKS
Side 1
1Highway Star
2Child in Time
Side 2
1Smoke on The Water
2The Mule (Drum Solo)
Side 3
1Strange Kind of Woman
2Lazy
Side 4
1Space Truckin'
Made in Europe - Recorded over three nights in different locations over Europe (Paris / Graz and Saarbrücken) Made in Europe was the final offering by the Coverdale fronted version of Deep Purple, though only having 5 tracks it finds the band in top form and is a great epitaph to the Mk3 version.
TRACKS
Side One
1Burn
2Mistreated (Interpolating Rock Me Baby)
3Lady Double Dealer
Side Two
1You Fool No One
2Stormbringer