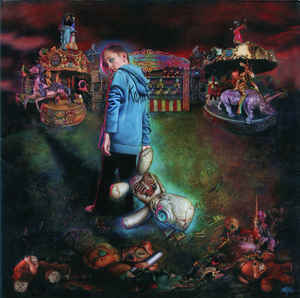 KORN The Serenity Of Suffering (Deluxe Edition with bonus tracks) CD
Notes
[Sticker on shrink-wrap]
Special Edition includes 2 bonus tracks and exclusive artwork.
Parental Advisory - Explicit Lyrics.
[Disc label]
℗ & © 2016 Korn Partnership under exclusive license to Roadrunner Records for the United States and WEA International !nc. for the world excluding the United States.
Manufactured in the E.U.

[Back sleeve]
Made in the E.U.

Comes in a jewel case with a transparent tray; contains a 18-page fold-out booklet (3 x 3 pages) without lyrics.
Track durations do not appear on the release, they are measured by a computer.
Label:
Roadrunner Records ‎– RR7471-5, Roadrunner Records ‎– 1686-174715, Roadrunner Records ‎– RR74715, Roadrunner Records ‎– 1686174615
Format:
CD, Album, Deluxe Edition, Special Edition
Country:
Europe
Released:
21 Oct 2016
Genre:
Rock
Style:
Nu Metal

Tracklist
1Insane3:50
2Rotting In Vain3:33
3Black Is The Soul4:01
4The Hating4:23
5A Different World3:21
6Take Me3:00
7Everything Falls Apart4:17
8Die Yet Another Night4:29
9When You're Not There3:25
10Next In Line3:28
11Please Come For Me2:53
Bonus Tracks
12Baby4:56
13Calling Me Too Soon3:23