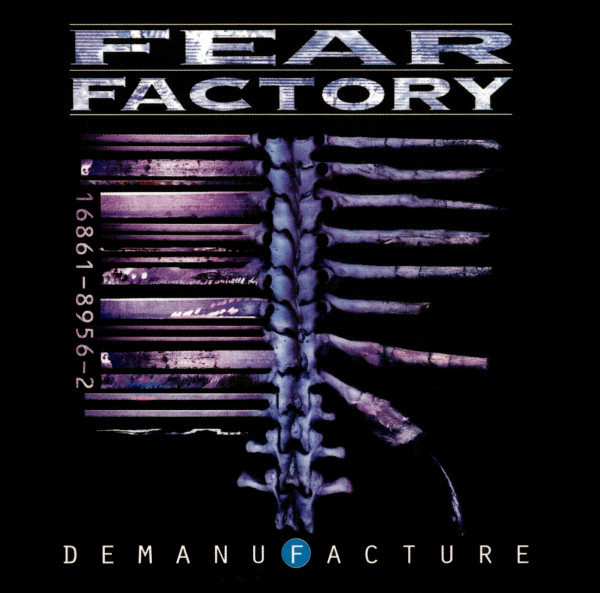 (Back Order) FEAR FACTORY Demanufacture CD
Notes
Produced for Zomba Management Ltd.
Recorded at Bearsville Studios, Bearsville, NY (October 7 - November 20, 1994)
Additional tracking at Whitfield Street Recording, London, UK (December 2 - 18, 1994)
Mixed at The Enterprise Studios, Burbank, CA (February 4 - 26, 1995)
Mastered at Sterling Sound, New York, NY
All sons published by Roadblock Music Inc./Hatefile Music (ASCAP)/Roadster Music B.V.
except track 6 published by Longitude Music Co. (BMI) O/B/O Dying Art Ltd. D/B/A Mute Song
Career direction: Rush Artist Management 160 Varick St., 12th Fl. New York, NY 10013
Cover illustration adn design @ Hourglass
Dino Cazares and Christian Olde Wolbers exclusively play E.S.P. Guitars
Fear Factory proudly wear Bronze Age Clothing

This record is dedicated in loving memory of Ben Herrera (1914-1994)

Issued under license to Roadrunner Records from The All Blacks B.V. Roadrunner Records is a registered trademark of The All Blacks B.V.

℗ 1995 The All Blacks B.V.
© 1995 The All Blacks B.V.
Label:
Roadrunner Records ‎– RR 8956-2
Format:
CD, Album, Reissue
Country:
Europe
Released:
2004
Genre:
Rock
Style:
Industrial, Death Metal

Tracklist
1Demanufacture4:12
2Self Bias Resistor5:12
3Zero Signal5:56
4Replica3:56
5New Breed2:49
6Dog Day Sunrise4:45
7Body Hammer5:05
8Flashpoint2:53
9H-K (Hunter-Killer)5:17
10Pisschrist5:25
11A Therapy For Pain9:43